The Eagle River Water & Sanitation District is a local government that provides efficient, reliable water
and wastewater service to its customers from east Vail to Wolcott. This page will introduce you
to our billing and payment process, show you how to track and manage your water use, and help you find
important information related to water use regulations, drinking water quality, rebates, and more.
Important Links & Resources
Payments & Billing
To pay a bill or set up automatic payments, visit Paymentus our bill payment portal. For questions, see the Paymentus Users Guide.
You can also make a credit card payment anytime by phone using our automated system. 
Call 970-476-7480 and press '1'. 
Our office hours are 8 AM to 4 PM. To make a payment when the office is closed, please use the payment drop box at our Vail Office. 
Eagle River Water & Sanitation District
846 Forest Road
Vail, CO 81657
You may also mail checks to our water bill payment lockbox at:
ERWSD
P.O. Box 712245
Denver, CO. 80271-2245
* Be sure to reference your entire Customer Account number or enclose the remittance slip. 
Billing
Billing is done approximately every 30 days. Each bill is for the 30 days prior.
Payments are due within 25 days of the billing day. Late charges are assessed at 3% per month.
Service can be disconnected if payment is not received within two months of the billing due date.
A $150 charge will apply to disconnect and $150 for reconnecting if a field crew member is dispatched due to non-payment.
For security reasons, we will not initiate a call to you for payment at any time. Please submit your payment via the methods listed above. 
We understand that customers may encounter financial hardships, if this is the case, please contact us, we are willing to make payment arrangements. Payment arrangements cannot be made after shut-off has occurred.
Monthly Costs
Your bill consists of a base rate, water usage rate, wastewater service fees, and additional fees and taxes, all of which are clearly detailed on each monthly bill.
Monthly base rates are assessed based on the type and size of property and ensure service to your home. The residential base rates are based on your home's square footage. The commercial base rates are based on the meter size.
Sewer and water system impact fees are one-time fees and were paid by the developer or homeowner when the water and wastewater systems were first established in your home.
Customers are required to report remodels or additions to ERWSD. Additional tap fees may be required and will be determined based on SFE (Single Family Equivalent) increase. A SFE is a is used as your billing multiplier (1 SFE = 3,000 ft2 dwelling).
Billing rates vary by service area and are always available on our website at www.erwsd.org/customers/rates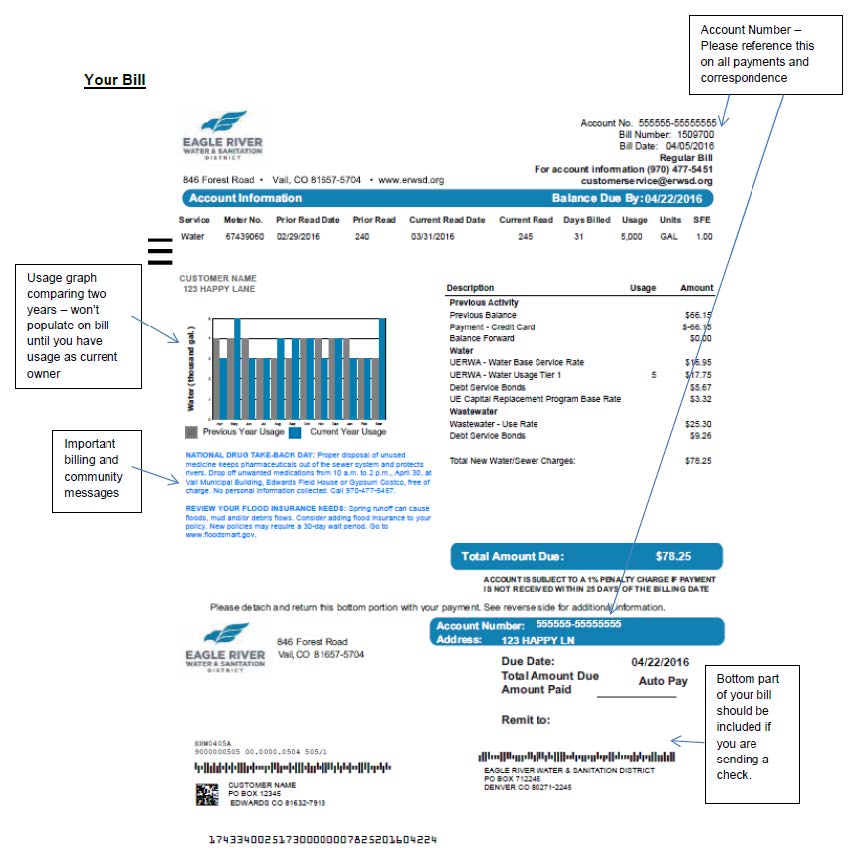 Sewer Averaging 
For wastewater service, the monthly charge during the winter (January through April billing periods) is calculated by applying the wastewater usage rate to the amount of water used. The monthly wastewater charge for the remaining eight billing periods is calculated by applying the wastewater usage rate to the average amount of water that was used per month during the winter months. This is done because customers tend to use more water for outdoor purposes during the summer months. Averaging is intended to capture your average impact on the wastewater system.
Sewer averaging example:
WaterSmart
Want to understand your water use, set targets to reduce your water use, and receive leak alerts? Sign up for the WaterSmart program, your FREE personalized water efficiency portal. You can track water usage, receive leak alerts, and compare your water use to similar households.
Sign up here. Enter the last 8 digits of the account number with the property zip code.
WaterSmart is not currently available for Minturn customers. Some neighborhoods will not have access to the full WaterSmart functions (such as daily/hourly use) until system upgrades are completed.
Contact Information
The Customer Service department is responsible for delivering quality service in the areas of utility billing and customer support. This includes customer contact (telephone and walk-in), payment processing/cashiering, credit/collections, and billing and tap fee collection.
The Customer Service office at 846 Forest Rd in Vail is open Monday through Friday, 8 a.m. to 4 p.m. You can speak to a Customer Service Specialist by calling 970-477-5451 Monday through Friday, 8 a.m. to 4 p.m., or email [email protected].