Retaining wall replacement at wastewater treatment facility in Avon 
Update, May 11, 2023
The Eagle Valley Trail through Avon reopened on May 5, with a one-day closure planned on May 15 to repave the path. Considerably less trail damage occurred during the installation than anticipated, enabling the construction team to open the trail prior to re-paving. Users should be aware that some gravel, fencing, and narrow portions exist through the area and are urged to use caution and reduce bicycle speeds.
Feb. 15, 2023
Starting Feb. 27, the Eagle Valley Trail through Avon, from West Beaver Creek Boulevard to the Riverfront Lane connector spur, will be fully closed in order to install a new retaining wall along the southern fence line at Eagle River Water & Sanitation District's wastewater treatment facility in Avon.  A detour is available through Nottingham Park. The full closure will likely remain in place until early May. 
The new retaining wall will match the retaining wall system to the east at the Riverfront subdivision. Although this is a popular section of the Eagle Valley Trail, public safety is a priority and the closure is necessary due to excavation in and near the existing path for the new wall footer. Signage and barricades will be in place throughout the closure duration. Upon completion, new full width asphalt pavement will be installed on the path for approximately 250 linear feet. 
The retaining wall replacement is part of the final phases of the wastewater treatment facility's Nutrient Upgrades Project, a more than $60 million project to upgrade the treatment process to meet federal and state mandated effluent nutrient regulations and improve water quality in the Eagle River. The scope of work includes improvements to provide flexibility, redundancy, safety, and resilience to the wastewater treatment process. Aesthetic improvements such as new exterior building painting, landscaping, and a new fence surrounding the property are also included. The retaining wall is integral to the fencing installation along the southern side of the property. The existing wall did not accommodate fence installation and the new wall will provide a safety barrier for snow removal operations within the facility.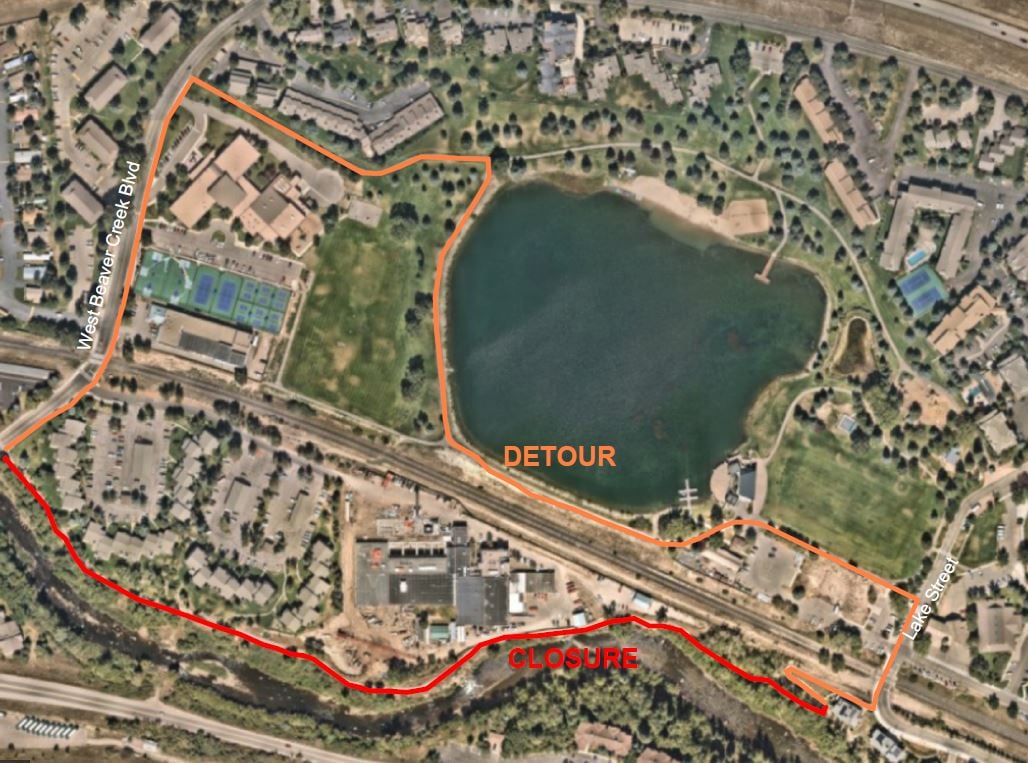 Eagle Valley Trail closure and detour, Feb. 27, 2023.
The duration of the trail closure is contingent on the availability of asphalt pavement; typically asphalt plants do not open for production until May, dependent on weather. There may be an opportunity to open the trail with a temporary surface but that is also dependent on weather, material availability, and construction progress. The detour route and signage will remain in place for trail users until the trail is reopened to the public.  
The Nutrient Upgrades Project is scheduled to be complete in early June and is funded by customer wastewater rates and property assessments. The work will be performed by Moltz Construction of Salida.  
For more information, contact district customer service at 970-477-5451.