Backflow Prevention and Cross-Connection Control Program
What is backflow? "Backflow" refers to the reverse flow of water, fluid, or gas caused by back pressure or back siphonage. 
What is cross-connection? A cross-connection is any point in a water distribution system where chemical, biological, or radiological contaminates may come into contact with potable water. During a backflow event, uncontrolled cross-connections run the risk of allowing contaminates to be drawn or pushed back into the potable water supply. Some examples of cross-connections include: 
Fire suppression systems 
Boilers 
Pumps 
Medical facilities 
Irrigation systems 
Why does Eagle River Water & Sanitation District have this program? Due to increased awareness, many strides have been made to protect our water from the risk of backflow and cross-connections. One such stride is the development of backflow programs by local water purveyors. Universally, there are two basic steps to a successful backflow program. The first step is having a backflow device installed at the connection from the public water system to the consumer. A proper containment backflow device has two or more valves designed to prevent the reverse direction of the water, preventing backflow. Most of the valves are simple in design, opening when the flow of water is from public water system to the consumer. If the flow is reversed, the valve shuts, preventing backflow. Having two or more valves ensures the safety of our public drinking water. To be safe, each device should be carefully selected for its intended purpose and tested periodically. Click here for diagrams of approved metering system assemblies.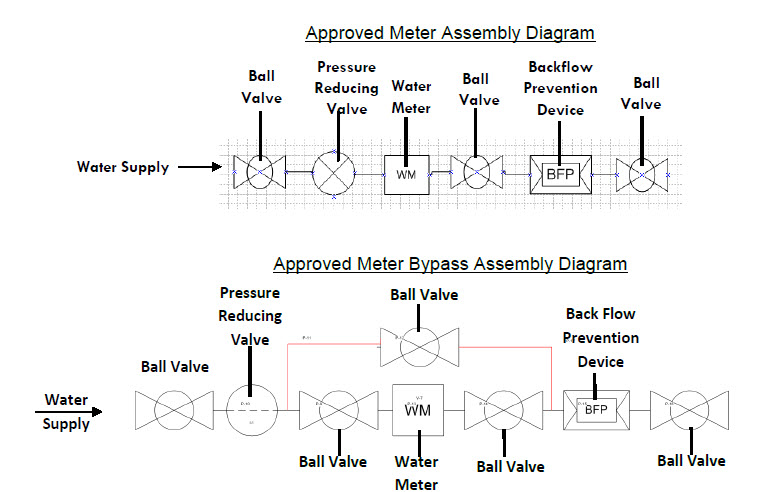 The second step in a successful backflow program is having devices routinely tested to ensure proper working order. All backflow devices are mechanical and will eventually fail. Testing is crucial to ensure the safety of our public water. In order to repair before a failure occurs, the state of Colorado insists on an annual testing of all devices that are protecting a known risk. It is the water purveyor's job to assess which connections are at risk and to enforce devices being tested annually.
Backflow and Cross-Connection Control is regulated by the state of Colorado through Regulation 11.39 of its Primary Drinking Water Regulations. As a public water provider, Eagle River Water & Sanitation District implements the state's regulations by requiring customers to comply with the regulations on their properties. The goal of the regulations and the district's requirements is to protect public health and safety by ensuring that contaminants from customer properties do not enter the public water system. 
What do the Colorado Primary Drinking Water Regulations and Eagle River Water & Sanitation District's Rules and Regulations require of me? Customers must meet the requirements of Regulation 11 and the district's Backflow Prevention and Cross-Connection Control Program. Here's where we can help you. We will notify you of the need to have a survey conducted on your property to determine if you have, or should have, any regulated cross-connection control devices on your property. If you need a device(s), installed to comply with the regulations, we will notify you. Once you have the proper device(s) installed, we will notify you regularly when you need to have it tested to confirm it is working properly. You will be required to contract with a certified backflow tester to conduct the test and submit results to the district. If the test indicates that the device is not working properly (failed), you will need to contract to have the device fixed and retested. All requirements have a specified time period within which you must comply. 
What is a Cross-Connection and Backflow Protection Survey? Suppliers must survey all connections to the public water system to determine if the connection is a cross connection. A survey may consist of a phone or mailed questionnaire and/or a physical inspection to assess whether there is the potential for cross-connection and/or backflow on your property. If no potential is found, there is no further action required of you until the next required survey. 
If a survey determines that I have, or need to install, a regulated device, what do I need to do next? The district will notify you by letter of next steps and specific requirements. 
How long do I have to comply? The letter you receive from the district will provide you with the time frame within which you must comply with the requirements. 
What will happen if my property does not comply by the deadline set by the state of Colorado and Eagle River Water & Sanitation District? If your property is not in compliance with the district's requirements by the dates communicated in the notification letter, you will be assessed a fine of $500/month. If any noncompliance on your property is anticipated to result in noncompliance with state regulations, your water service will be temporarily discontinued until the property is brought into compliance, in addition to the $500/month fine. Additional fees may be applied to cover district staff time due to noncompliance, such as property visits for turn-on and turn-off of service. 
Who pays for the services and costs to comply with the regulations? Surveys are conducted by district staff and customers are not charged for this service. Initial and yearly testing and inspection of regulated backflow devices, the cost of the devices, and installation, maintenance, repair, or replacement of the devices is the responsibility of the customer. 
How do I find a certified backflow device tester? Find a list of testers in our Certified Backflow Testing Company Directory. 
Who can I contact if I have questions about this program or the requirements I need to meet? Please email backflow staff at [email protected] with questions or to schedule a survey. You may also call 970-477-5451 and asked to be connected to a backflow specialist.